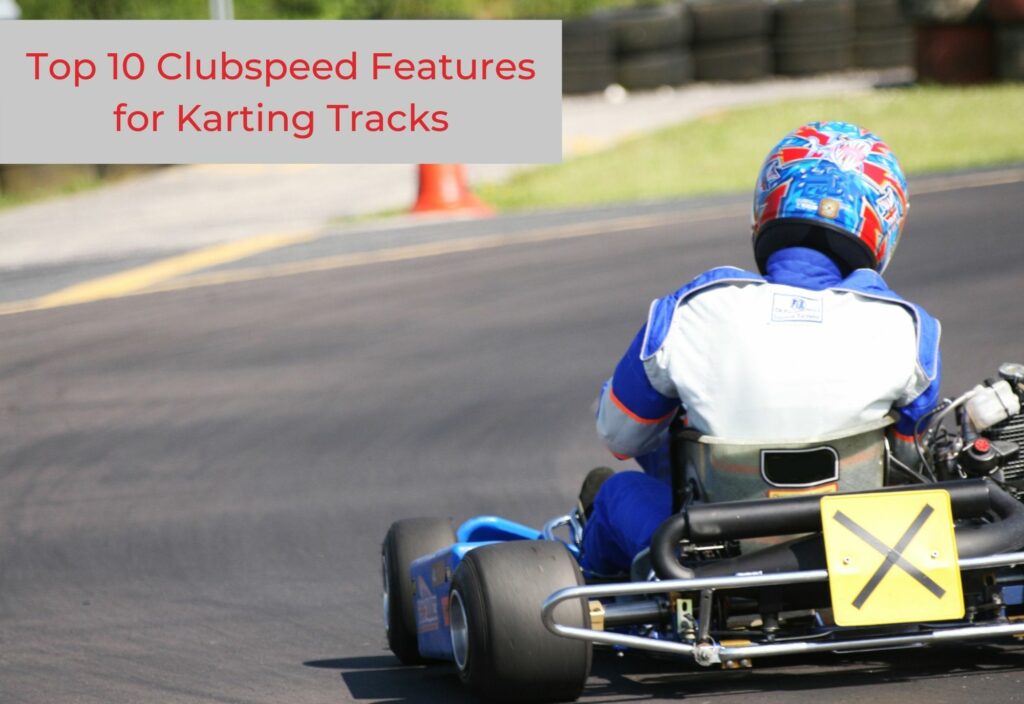 Clubspeed offers a robust list of features for karting and activity centers that continues to grow as the demands of our customers become more complex. The needs of karting facilities are unique and we are committed to delivering features that help our customers run their business with ease and efficiency.
Check out this list of our favorite Clubspeed features karting tracks shouldn't go without.
1. Race Timing & Tournaments
Precise timing, every time, is core to our software. Clubspeed integrates with the most popular timing hardware so your team can take advantage of the many race controls to run races, assign karts, grid by ProSkillTM and manage tournaments.
2. Digital Info Boards
Engage with your customers and display top times of the day, week and month, top ProSkillTM, most improved, next racers, photo of the last winner, previous race results, venue schedule and more. Displays accompanied with F1 style starting lights will give racers a sense of accomplishment and encourage friendly competition establishing your track as a top-tier racing center.
3. Online Reservations & Customer Portal
While most karting facilities offer arrive and drive, more serious racers appreciate the ability to quickly and easily book their races online. With the Online Customer Portal customers can view top times of the day, week, month, live scoreboard, as well as login to see their history and the top ProSkillTM. It also gives you business another way to stay in constant contact with your customer-base and encourage repeat visits.
4. Garage Management
Take control of your fleet maintenance and inventory with Clubspeed's Garage Management. Track the cost of parts and usage associated with managing and running your fleet. Preventative maintenance will help you avoid costly repairs so you can avoid dangerous situations related to an improperly serviced kart fleet.
5. Point of Sale
The Clubspeed touchscreen Point of Sale (POS) kiosk was designed to promote a quick and positive interaction between the customer and your employees. After completing registration, they can purchase races, merchandise, gift cards, food items and more all on one uniform, easy to use system.
6. Automated Emails
Are you missing opportunities for repeat business? Leverage Clubspeed's automated emails for marketing or loyalty programs to stay in touch with your customers. Send birthday emails, coupons and promotions based on specific criteria you set such as last visit, date of birth, purchase history and more.
7. Operational Reports Alerts
Keep a finger on the pulse of your business with operational reports and alerts. Setup and automate dynamic reports based on data you specify to uncover trends and areas for improvement. For example, send an email alert when you hit a certain amount in sales or an update with the number of racers by hour, every hour of the day.
8. Event Booking & Party Management
Karting centers offer an excellent venue for birthdays and corporate team building events. Clubspeed's advanced booking wizard gives your event planners and sales team an amazing tool to create intricate event bookings that are all tied into your schedules and POS system, meaning every one of your employees is on the same page with very little overhead.
9. Mobile App
With everyone glued to their phones nowadays, we know how important it is for your brand to have a reliable mobile presence. Our customizable mobile app is available for your IOS and Android users, allowing customers to view race results, online booking, QR membership code, live scoreboard, leaderboards and more.
10. Integrated Credit Card Payments
An integrated solution combines payment processing with Clubspeed to provide streamlined operations from one platform. Most noticeable to your customers and your employees is the ability to process credit card transactions much faster with decreased human error. Your security increases, while chargebacks are reduced significantly. View our complete list of benefits with an integrated payment solution.