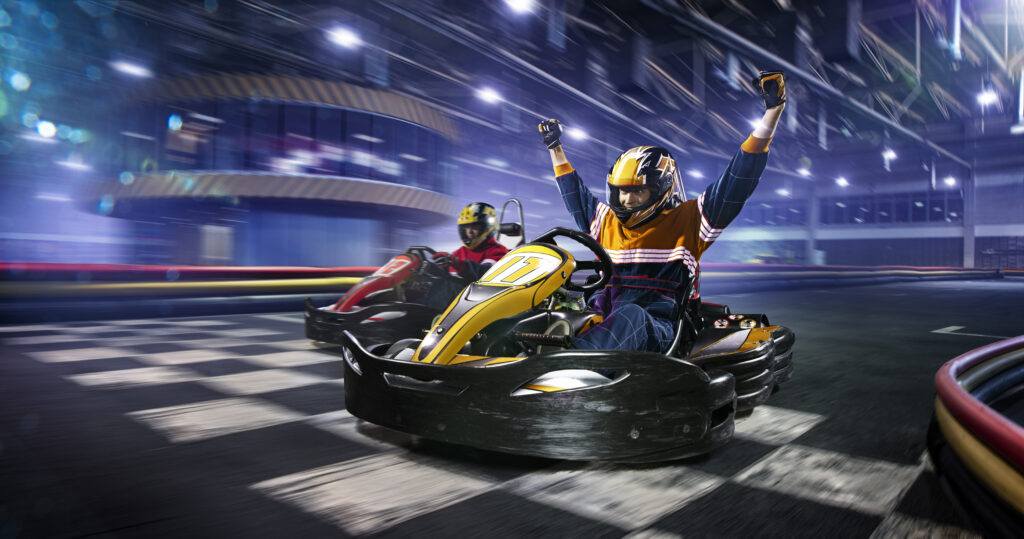 Activity centers and karting tracks always offer a great venue for corporate events and team building no matter what time of year it is. But in the holiday months, activity centers can see a significant boost in these type of events, providing the perfect opportunity for facilities with karting tracks to promote their business as the location of choice. Stand out from your competitors by marketing these 5 unique and fun ways to make your karting track even more appealing for corporate events.
Super Grand Prix
This is a great way to kick off a corporate event and get everyone warmed up and familiar with the track. Racers will battle it out for the top 3 spots on the podium through a series of heats and semi-finals to earn the ultimate bragging rights. Race results will display on leaderboards around your track and generate even more excitement and competition.
Team Relay Race
Have the group break out in teams of 3. Each member of the team will take turns making laps around the track. The number of laps each team member makes before tagging their teammate is up to you. The team to finish their laps first, wins.
The Ball Relay
This event works great with teams of 2, 3 or 4. Each team member will take turns attempting to push their team ball around the track. Soccer balls or medicine balls work great, just be sure to have a different color ball for each team. You repeat this until each member of the team has pushed their team's ball around the track. The team to complete this challenge in the shortest amount of time wins.
The Backseat Driver
This challenge requires a team of two where each team member takes turns racing around the track. The catch? The team member that is driving is blindfolded. The other team member will be situated on the sidelines coaching their team mate around the track through their headset. Talk about the ultimate team building exercise in trust and communication.
The Pit Crew Challenge
Karting tracks deliver an exhilarating experience for racers and closely resembles a Nascar experience without the grandstands. Let your racers get the full experience with the Pit Crew Challenge. With a team of four, assign one team member to a tire on one kart. Each team member will be responsible for removing the tire and swapping it with the tire adjacent to theirs. The team to finish in the fastest time, wins.
Conclusion
All 5 of these challenges can be modified depending on group size and the amount of time allocated. The goal is to market these activities to businesses looking for a fun team experience that goes beyond just racing around the track. Putting these ideas together and letting groups know that you have a series of challenges available takes the responsibility off their shoulders. All they have to do is show up and be ready to have some fun. Be sure to have a solid kart timing solution in place with the ability to display top scores, times and winners on screens around your track. This will drive the competition and make the event a day to remember. No doubt these unique team building ideas will produce a few more repeat customers.